Cela faisait beaucoup trop longtemps qu'un petit trophée platine n'avait pas poppé sur ma PS4. Et bien c'est chose faite avec un platine très spécial pour moi puisqu'il s'agit de mon premier pour un jeu sur PS VR avec le titre The Playroom VR !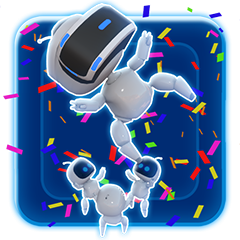 The Playroom VR (PS4)
Et oui, ayant reçu mon PlayStation VR peu après la sortie, The Playroom VR a été un des premiers jeux testés avec le nouveau casque, et notamment car il est proposé gratuitement sur le PSN.
Inutile de préciser qu'il s'agit d'un easy platine. Pour son obtention il faudra jouer aux 5 minis jeux proposés ainsi qu'obtenir tous les minibots dans la section dédiée grâce aux pièces que vous obtiendrez lors de vos parties.
Rien de très difficile, mais il faut noter que certains mini jeux nécessitent 2 joueurs (un au casque PS VR et au moins un autre à la DualShock ou devant donner des indications au joueur VR). Un seul des trophées m'a donné un peu plus de mal que les autres, à savoir celui qui nécessite de nettoyer tous les fantômes de la dernière section du mini jeu Ghost House.
Bref, un 62ème trophée platine à mon tableau, et un premier platine PS VR !
A très bientôt j'espère pour un prochain Platinum Club 🙂