Je vous parle d'aujourd'hui d'une toute nouvelle box récemment sortie : la Wootbox by Jeuxvideo.com. Cette dernière est la première box mensuelle 100% gamer, et voici tout de suite plus de détails ainsi que le contenu de la toute première box de juin !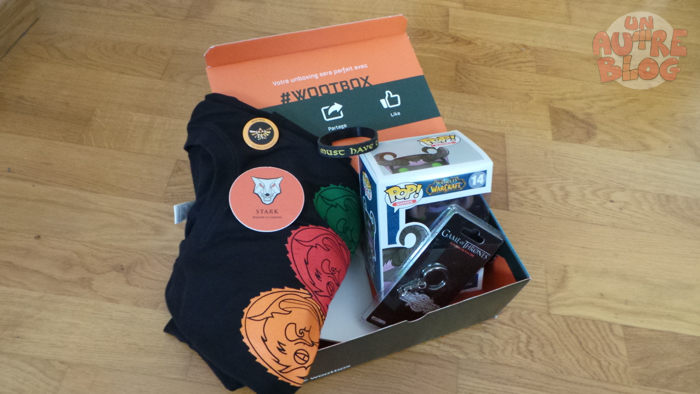 J'ai donc eu la chance de recevoir il y a quelques jours cette toute nouvelle Wootbox destinée aux geeks, gamers, fans de goodies, ou même toi qui lis ces lignes en ce moment même 🙂
Le concept est simple et assez similaire aux autres box existantes : chaque mois vous recevez une box « mystère » contenant de multiples goodies, accessoires, t-shirt ou autres figurines sur un thème proposé pour gamer / geek.
Pour inaugurer son nouveau produit Wootbox a choisi pour sa box de juin comme premier thème Heroic Fantasy. Voici le détail de son contenu :
Une figurine Pop Funko de la série World Of Warcraft aléatoire parmi Murloc, Sylvanas, Thrall, Illidan ou Arthas
Un t-shirt « Where are my dragons » designé en exclusivité par l'équipe de Jeuxvideo.com
Un poster mash-up Final Fantasy vs. Pokemon
Un porte-clef Game Of Thrones
Un bracelet en silicone « Must have the precious »
Un badge exclusif façon triforce de Zelda
Un sticker Game Of Thrones
En ce qui concerne le prix, celui-ci est assez intéressant car pour seulement 19.99 € (+ 4 € de livraison) vous recevrez l'équivalent de 40 € de produits dans votre pack ! Le prix peut même baisser un peu si vous vous abonnez pour 3 ou 6 mois.
Et ce n'est pas tout ! En bonus une MegaWootboox d'une valeur de 2000 euro sera envoyée aléatoirement à l'un des abonnés :p
Bref, pour ma part je suis fan du concept. Si vous voulez plus de détails ou tout juste commander votre Wootbox, je vous invite à aller sur leur site : www.wootbox.fr
Le thème de la box de Juillet est déjà annoncé et sera : les Héros !
Et maintenant, place aux photos. Enjoy !